Finished!
Here's spooky Desukan the Tomb Pokemon...........





And Denchura, the Spiky Sparky Spider Bug.
~~~~~~~~~~~~~~~~~~~~~~~~~~~~~~~~~~~~~~~~~~~~~~~~~~~~

DESUKAN PLUSH:
*Desukan is made out of Minky.
*Is completely handsewn.
*Has hand sewn embroidery features.
*And Wired arms and fingers for posing.
*He is much bigger than a pokedoll.
*I will measure him when I post him up in auction*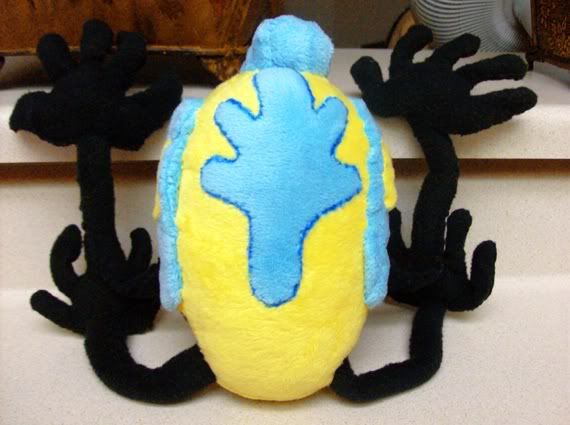 He was such a fun plush to make and such an AWESOME ghost type. One of my boyfriends favorites from the 5th gen and he is hard to please. I just knew that I wanted to make a plush for him since creepy pokemon need love too AND I had to make his arms wired.


Here he is with some of my kids on his fingers and hands. He is so twisty and all over the place! You can even pose his fingers to flip people off. :X

DENCHURA PLUSH:
*Made out of Minky, while the lavender is fleece.
*Has Embroidery eyes.
*Completely hand sewn.
* Much bigger than a pokedoll.
*Will add measurements when I post the auction*



Awwwwwwwwwwwwwwww.


We've been enjoying your ass for way too long, Denchura.

Dead buggie!

This was a very fun plush but VERY repetitive. X_X So many leg pieces and duplicates of EVERYTHING. Though it did take longer than Desukan, I still got him done sooner than I thought I would. :> His face was fun to embroidery but a little difficult since his eyes were so small.
Denchura: Hi Rai!
Raichu: I'm not going to believe you THIS time, Dee Dee. *Doesn't believe he has bug on head*
Size comparison shots: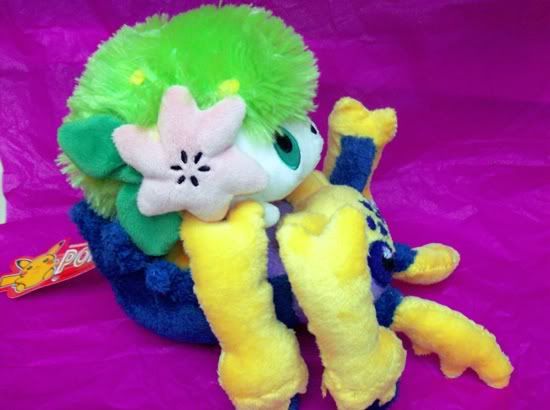 All aboard the spider express! Tons bigger than a pokeball.
These guys are the first two for my 5th gen auction set of 5. It was so much fun creating these guys since I have a feeling they MIGHT not get plush due to their creepyness cuteness and their details/complexity. I didn't want to make them in Pokedoll style since they might get them, who knows right? I hope they do.
Okay, need break since its almost 3am. Hand is sooooore.......

BUT Pokemon BW comes out tomoooooooooooooooooooooooorrrow!!!!! Or...I mean today! :DDDDD
Must prepare for new lovelies I want to collect. *Besides Emonga <333*